Towel Cake Centerpiece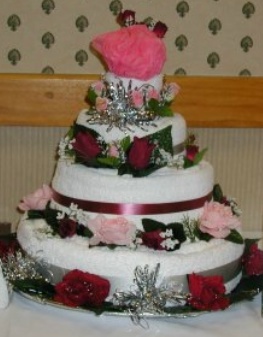 photo contributed by Jan V.
This "wedding cake" made out of rolled-up towels, hand towels, and washcloths is a creative centerpiece idea that is sure to be the hit of any bridal shower. It also makes a thoughtful gift for the bride-to-be...the towel set can be unrolled and used by the bride and groom in their new home!
Materials needed:
Four bath-size towels (white, or you can use colored towels from the bride and groom's gift registry)
Four hand towels
Four wash cloths
One quarter-inch wooden dowl
Shower puff (optional, for topper)
Large safety pins
White glass-head pins
White silk flowers
Other decorations as desired
Tools needed:
Ruler or yardstick
Wire cutters (to cut silk flower stems)
Kitchen shears or small handsaw (to cut dowl to length)
Instructions:
1. Take all four towels and fold in fourths along the length.
3. Lay the towels end to end, overlapping the ends slightly. Roll the folded towels tightly to form the bottom layer of the centerpiece. Pin the ends down with the large safety pins to keep the towels from unrolling.
4. Repeat the above two steps with both the hand towels and washcloths to form the middle and top layer of the centerpiece.
5. Measure the height of each layer. Add the heights of each layer together and cut a length of dowl that will equal the height of the stacked laywers. Take the dowl and insert it into the center of the bottom layer. Slide middle and top layers onto the dowel to stack on top of the bottom layer. This forms the basic "cake," which is now ready to decorate!

Note: After the layers are stacked, it is best to pick up the cake by the bottom tier to keep the layers from sliding off of the dowel.
6. Take the silk roses and arrange them on each layer in any way you like. Trim the stems with the wire cutters if necessary, then tuck them into the folds of each laywer to secure (they should not need to be pinned if the stems are long enough and the towels are rolled tightly enough).
7. Use the glass-head pins to attach any other decorations that you like. Some suggestions are to make little swags of ribbon or strands of pearl beads along the top edge of each layer. Be creative! (Decorations could also be stitched into place with a needle and thread, but this will make it more difficult to unroll and use the towels after the party is over! DO NOT use glue to attach the decorations!)
8. Pin the shower puff to the top of the centerpiece as a cake topper. (A large bow or a real cake topper instead of the shower puff can be used if desired.)
The towel cake centerpiece is now ready for the bridal shower!
Back to the Wedding Crafts Page
© 2000 Yahoudi